Remember those days when communication between two persons in different places meant writing letters, waiting for the letters or maybe for the privilege of an occasional telephone call? Yeah, I know that I sound cliched. But today I want to talk about this exact cliche.
I have lived in times when there was no mobile, no phones that are smarter than humans, no internet. I have lived in times when mobiles, smart phones, internet, computers were not so easily available to the common man and I am glad that I was part of a common man's family then. I have experienced the thrill of writing letters and waiting for a reply. I have had my first rush when I got the first phone call from a friend. It made me feel important in the family to be able to give our land line number to a friend and to have her call it. We didn't have anything to talk though. But I can still remember how we both giggled into the receiver of having done something grown-up.
And writing letters, ah! The feeling is indescribable, especially if the letter is to a budding crush/romance/love. My hubby and me were childhood sweethearts and were best friends right from the KG classes. So in the early teens, we had a gang of our own and all the usual drama in the class. So we had a code for writing letters among the members of the gang. Though there were other members in our gang, we two really hit it off with the letter writing, sometimes in code and sometimes normally. Starting from the silly "Have you done your homework?" to the then important "How is our enemy gang planning to prepare for the test?", we have seen it all. The funnier thing here is it was almost always the action of writing and exchanging the letters that piqued our interest than the content itself. After all, what could a couple of school kids write about? 😛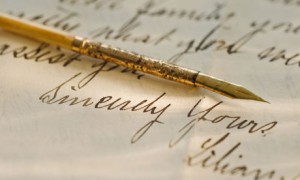 Anyway, I still have that feeling in me when I sit down and write something. If not physically, the closest feeling is typing up my thoughts. I know such is the case for many bloggers around here. My point in writing about this today is how the ease of communication has actually removed/replaced several prized feelings that still send a thrill coursing through our entire body. Today, we can reach anyone, anywhere at any time. The prerequisites are a smart phone and internet. Maybe even just a mobile phone. While all this has certainly eased our pain points of reaching someone, I feel sad. I feel sad that I cannot show my kid how "that feeling" would be. How the feeling of exchanging letters with your crush would be, how the feeling of waiting beside the telephone for a call that a friend promised you would be, how it feels to exchange coded notes with co-conspiring friends right under the nose of those who are busy trying to figure out what you are talking about, especially when all you would have been talking about is that your mom has packed aloo subji for lunch and that you would be willing to trade some for the delicious omelet that your friend's mom packed.
Keeping in touch has now become so easy that the pain of farewell is diminished. When it is good that we can keep in touch with our old school friends to this day, we are missing that high which comes when you stumble into an old friend at the supermarket whom you have tried to keep in touch so hard but over time, lost it. Can any of the WhatsApp kind messengers or Facebook kind social media beat that feeling? I don't think so. Today, the internet has changed the world into one big open book where anyone can peek into my page and read my personal feelings with no consideration whatsoever. Social networking was supposed to re-create the long lost bonds between friends and make them connect. But it went a step ahead and told us stuff about each other that we actually wouldn't want to know or shouldn't be knowing anyway.
As all this is taking us ahead, all we can do and are doing is sit back and reminisce about the times when we had more prized possessions in the form of memories and how all those would not be passed on to our next generation. The precious feelings are cursed to stay frozen in time while the human race races faster than ever.
Until later 🙂