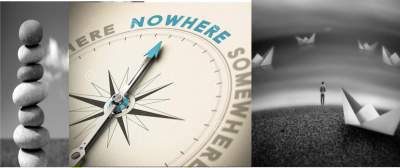 I am sitting alone, thinking about my life so far and my life ahead. The room is so silent and the rhythmic creaking of my fan is such an habitual sound to me that it doesn't disturb the silence for me. 25 years of life and already I am out of breath due to the mad race. Yes, I have a few precious persons in my life who save me from the madness that is the world and I know to appreciate them. There are some things in life that keep it going, motivating me to push on.
All that aside, there have been moments when I think what am I doing here? What's the purpose of me being here at this moment? A lot of philosophical mess is there in my mind and taking advantage of the same, my mind just takes control and spews random thoughts out all the time. There are many things to enjoy, a lot of things to write about, a lot of books to read, a lot of challenges to face and so on. But do we realize the enormity of it? If yes, do we realize it on time? How many times do we take things for granted? How many times are we lost in this huge ocean of life?
We are forced to change constantly. We hate it, face it and somehow do it in the end since there's no other choice. What if we let go of the inhibitions and take it a bit more positively? What if we know that life's hard but decide to just face it instead of moping around? Is it as easy as it sounds? We'll never know until we try it. Maybe it's easier than we thought or maybe it's harder than we thought. At any point, we never know what's at the end of the road. What we are shown is just the next step or sometimes even the next step is hidden in darkness. But should that stop us from trying? If so, what's the point of even navigating till the end of the tunnel? We can just sit wherever we are and get run over 😉 But we don't wanna do that, right? We want to keep going ahead. So taking the next step is an essential one. Amidst all the chaos is the calm we are searching for.
Until later 🙂