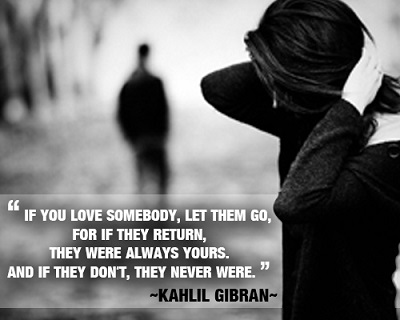 Image Source: soulmatequotes.com
This quote resonates with a life lesson I never thought I needed but I was wrong, but all that is done and dusted now. But the essence of this quote defined and still defines a major life decision and I carry the lesson with gratitude. There is just one too many things when it comes to love, but often we forget to stop and see if something was ours to begin with. If it was indeed, nothing in the world can take you apart. But if it is not, well.. we'd learn to live without it eventually, if not immediately. I am just happy he was mine all along and I was his all along. So many things happened to conspire against us but like it goes, the universe conspired to bring us together. And today, we live as the solid proof with 23 years of acquaintanceship, almost 12 years of a romantic relationship and nearing 2 years as husband and wife.
This quote challenge has been fun for me, I hope it is the same for the writers I tagged. In fact, I had too many quotes shortlisted and picking just 3 was a quite a task.
Today, I tag:
Shailaja @ The Moving Quill
Aathira @ Bewitched by words
Nisha @ Teeth that sparkle
What is the 3-Day Quote Challenge about?
1. Post one of your favorite quotes on three consecutive days. The quote can be from your favorite book, author, or your own. (You must post 3 different quotes in all)
2. Nominate 3 bloggers each day to challenge them.
3. Thank the blogger, who nominated you.
Until later 🙂