What made me to click that sign up button for reviewing Private India was the thrill it promised and I would say it delivered most of it. However, while doing that, the book lost out on a lot of other basics. That being my short review, let me get straight to my take on the book.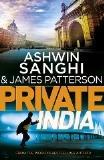 What kept me reading?
– The plot that was slowly built up keeping the readers' interest intact. The build up ends in the fitting climax that comes as quite a surprise. Unlike most suspense novels, where you can kind of guess where it is going, this book doesn't allow you to break it's suspense.
– The alternate perspective lines, one chapter on the events and one chapter from the killer's thoughts. This style comes in handy because if you are getting irritated with how a chapter is framed, you need not be irritated for long. The change in scene helps in distracting your mind to something else.
– The entangled mysteries, the sub-plot concept. It keeps you guessing about what the book is about. You frame a story based on the main plot in your mind as you read and then there is another plot line which will give you something to think about. This helps in keeping the question "What's next?" alive in the reader's mind.
What made me go "Awww, man, you shouldn't have done that!" ?
– The main put off for me was the mixed styles. Whether this was due to the fact that the book was authored by two people or something else, I don't know. Throughout the book, you can clearly feel two people talking to you about the story. The language, the style, the presentation, everything appeared to me in twos as if I was having a bad hangover. It disturbed my imagination as I read the book.
– The thought patterns of Santosh Wagh, one of the leads, as he thinks about the killer's motive are funny. Yes, funny! Questions like "Why Lara Omprakash was your fifth victim?" and "What are you thinking?" made me feel like I am watching a bad episode of those CID types TV shows.
– The lack of class. For example, the killer's thoughts. We are nowadays used to classy villains (The expectation keeps in pace given that James Patterson is one of the authors). However, the killer is portrayed as kid who was denied a lollipop, in places where the killer is upset because the police is avoiding revealing details about the murders, thereby taking away his publicity.
– This book could have done better with compressing, removing unnecessary descriptions here and thereby ending up in a 50-100 lesser pages.
I would not say this book is a bad read because it has some very good foundation as plot, holding the readers' interest, an open ending for it to evolve. But there are certain things that fly around your head like that irritating bee with the buzz that you want to slap off. Especially when the book feels like a bad mocktail which has two things that shouldn't be mixed.
My final verdict for the readers is you can pick this book for a engaging read on a train journey but not for satisfying a craving for an excellent read. So here's how my rating goes : 3/5

Until later 🙂
P.S: I have not described or even used the character names and behaviours except for making my point because if I give you glimpses of them ahead, I might just deprive you of the thrill/suspense associated.
This review is a part of the biggest Book Review Program for Indian Bloggers. Participate now to get free books!