She sat with her head bowed, a couple of daisies in her hand. The single tombstone stood ironically in the middle, united for both the graves. Of course, they were united even when they finished the journey. Always together. She wiped away the tears that started afresh, they wouldn't want her to cry. They taught her to forget, to forgive, to love and live. Again. What she was before them was something she considered a dead past. It was the couple who rescued her from the clutches of such a life and had shown her there were ways to live. To live with a purpose. To make a difference in others' lives.
She knew that they had long wanted her to give the nod to Arjun, a gentleman in all aspects. But how much ever she changed herself, she couldn't trust anyone else to hand over her life to again. Her foster parents gave her the space and freedom, never forcing her once. Arjun was no less, he has kept his word since that day, "I love you. I want to be with you forever. But only if you want to. Else let's forget this ever happened and be the best of friends as ever". He had not shown any sign of his feelings after that breezy evening when he opened his heart for her. Even when her parents left the world together as always, he stood as a rock by her side, taking care of everything but never taking advantage.
She knew her heart wanted to accept him. But can she love again? More importantly, can she trust again? She had not let anyone than her parents to enter her shell till date. Can she break that self-imposed cage? She looked at the tombstone and read "Grow old along with me, the best is yet to be." She wiped her eyes and asked herself, "Does she want someone to grow old along with her?" Her heart screamed "Yes". She placed the daisies at the tombstone and got up. To start towards her togetherness. To go and get her share of love and to give her share of trust. And then it started raining.
Until later 🙂
Linking this write-up to The Light and Shade Challenge prompt to write a 500 words or less post based on the picture and/or the phrase.
Picture: Image courtesy of Janssenfrank and taken from Wiki Commons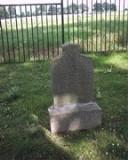 Quote: Grow old along with me the best is yet to be.