I had written a post earlier about how we tend to forget what a marriage is beyond that wedding day or maybe once the honeymoon period is over. What pushed me to write that post was the number of people I met, who were once love-struck and couldn't stay away from each other even for a minute yet turned into zombies living the routine once the wedding was over.
When I was writing that post, my thoughts ran to the marriages that we see in the elder generation, maybe consider a couple of generations back – Your grandparents. What about them? They never had a choice, for the most part. Their parents decided the groom/bride, the date, the location of the wedding and then how to live after the wedding too. All they were told was to do their job – which was to show up as told and live as told. Once the marriage was over, the man was to take care of his wife, procreate and continue to provide for the wife and kids for the rest of his life. While on the other hand, the woman went about the house, turning it into a home, satisfying the needs of the husband, and then the kids as they came along. Such was their life.
On the outside, it does look like a programmed life without any bugs – Even if there was ever one, the bug was quickly pushed aside with such deftness that there was never a second thought about how to live life. However, when I look closer, I see a different version than the one that we imagine their lives to be. Somewhere in between getting acquainted with a stranger and settling down in life with him/her, there blooms a sweet romance. They wouldn't call that romance and would rather call that understanding and fulfilling one's duties. However, I would insist on calling that romance to do justice to what they manage to build in the span of their years together.
For the sake of painting a better picture, I am giving an example here – Adit's maternal grandparents. They had a beautiful marriage of 60+ years (I am not sure of the exact number) until recently when grandpa passed away. I have witnessed their relationship up close, even if it was only for a few months. I still cannot comprehend the enormity of what they shared. In all those years of getting to know each other and forming a routine, they had added a little more care and respect all along the way. The understanding that comes with knowing how he likes the food and the respect that come with what she needs to run the household without being told explicitly. They followed an impeccable discipline which they passed onto their 4 kids. Towards the last few years of his life, Grandpa's memory started failing him and he had turned into a child who would ask the same question over and over. And grandma would answer the question every single time, with the same smile on her face and in the same soft tone as she always does. When he forgot things like his food and medicine timings, she cared for him as she would for an infant. When he threw silly tantrums about the clock not working or the TV behaving weirdly, she patiently told him that she will get them repaired and she did. Every single time.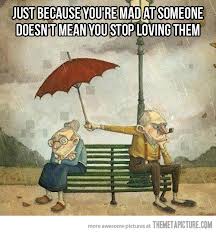 When you see such people, it just reinstates the faith in marriage even for a person who doesn't quite believe in the institution of marriage. They have been through it all, seen it all, and lived it all. Together. When a man is 60 years old and in a marriage, we do the Sashtiapthapoorthi*  to celebrate their time together. But would any amount of celebration do justice for a marriage that has lived for 60 years? I have often wondered why the celebration is centered around the man's age rather than the age of the marriage he is in. Their marriage spoke volumes of trust and faith you could have in your spouse. The mutual respect shines through all those years, unblemished. Witnessing this kind of a relationship which shines with love that was never acknowledged by anyone left me in wonder. When they, who had no choice about their life partner, built such a beautiful marriage, why are we struggling to hold up a relationship, when we have all the choices in the world? Why is it that couples of this generation stand in line at family courts, when they were the ones who chose their spouses?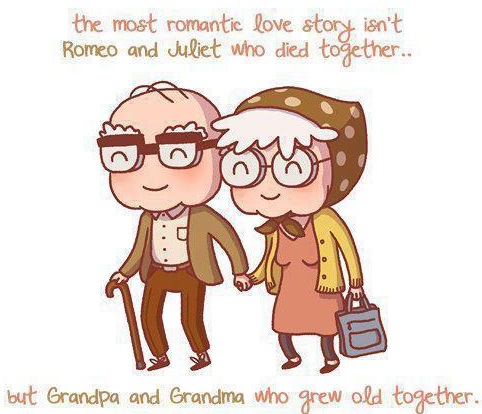 Marriages live beyond the lives of the people involved and tell their tales. Even after grandpa passed away, grandma lives in that same house with his memory for company, refusing her children's requests to come live with them. The forlorn beauty that meets me every time I visit grandma and see the garlanded picture of grandpa is something that inspired me to write this post. And the same melody I hear from their silent love is what inspires me to love more and live more.
*Sashtiapthapoorthi is a matrimonial celebration when the man reaches 60 years old. The base for this tradition is to revive the memories and taste of the good old days for the old couple when they started their marriage because with time, they get used to living for their kids than for themselves.
Until later 🙂
Image Credits: All the images used were picked up from Google search