Not all marriages are exciting and romantic, does that mean we dismiss them as a failed marriage? I don't think so. Such marriages maybe a boring one that had lost its glory in the mad race which follows a set milestone path – Get married, Excel in work, Earn loads of money, Buy a house, Procreate, Live for the children and so on. It never ends really. We have seen so many of our previous generation marriages that follow this path without flinching or so much as a care for why they are doing the routine so meticulously. We could have seen this with our parents too. But somewhere in the looking out for each other and striving to build a strong foundation for their off springs, they found their romance and the purpose of their relationship. I still cannot fathom how they did this, but more on that in another post.
However, what ticked me off to write this post is the attitude with which some of us from this generation take marriage. The married couples now, anywhere from 1-5 years of being married, they made me wonder. I am generalizing here, pardon me for that, but I have seen many people, men and women alike, think of the relationship journey to be complete once the marriage is over. They fight, cry and put their lives at stake for getting married to the one they love. But once that sacred knot is tied and the honeymoon period is over, everything is set and the accomplishment gets its closure. They fall back into this routine of working for 5 days, chilling out for 2 days a week and then the same thing all over again. The little surprises, the sweet nothings, the crazy love messages all fade slowly over time. To have a real conversation that didn't involve paying bills, buying groceries and financial planning for the future becomes a challenge that is more daunting with each passing day.
Both men and women are to blame for this, for it takes two to make or break a relationship – be it marriage or any other relation for that matter. I have seen some crazily love struck men turn into someone who has a relationship only with their mobiles or laptops after marriage. They don't bother to help the wife with the household work, even when they can. That's purely out of habit. Eventually, the same woman who had spent so much time dressing for her guy and planning the biggest surprise for his birthday now does not have time for him. She gets neck deep in the routine of running the household and balancing her career at the same time. She does not let go of certain things to prioritize the time spent with her husband.
While life is always a rat race, this time lost will never come back. 10-20 years into marriage, we would have become so comfortable with the monotony that things would go about the same way without a blink. But where and when the stars vanished, one would wonder! We are the generation who have come leaps and bounds from where our parents were. We are the ones who explored love as an individual emotion and not just a mandatory feeling that we must feel towards the person our parents married us to. Be it arranged or love marriage, the term relationship got redefined more with our generation's attitude and thinking. Then why is this still happening?
Small things – A hug and a I love you every day without one eye on the TV/laptop, even a hurried kiss as we rush off to work, a phone call from the midst of nowhere just to say sweet nothings, a little birthday surprise, a sudden shopping spree, a quiet holiday without checking the mail every other minute, a little time entirely devoted to the spouse – even if it is just 10 mins, having meals together at the dining table and not in front of the TV, listening to the rants of the other, taking time to help the other with their work – be it household chore or something else, cleaning up without being told, listening to favorite songs together, a simple candle lit dinner when there's a blackout… There are so many things that one can do, to say I love you.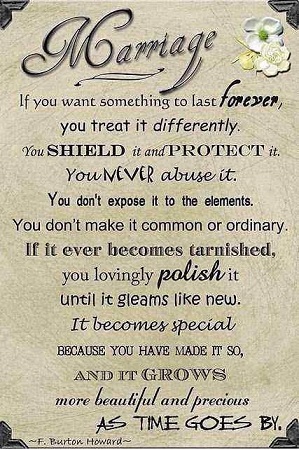 Even the simplest of the things can transform into some of the most romantic moments we have ever had, if only we take the time to notice. For example, I take it upon myself to find something to make from scratch and gift it to my husband. Not just for birthdays, but for every occasion. He has umpteen gadgets and I know he will hoard that a little more, but he can buy that for himself. But the birthday cards, the 365 jar filled with love notes, the key ring with those dangling little hearts – those he cannot buy anywhere, for they are filled with my love.
Love manifests in a million ways and more. There is no need to stick to a routine and forget ourselves. Just being there, ticking our minutes and hours away is not the job of a human being, but of an inanimate clock. We have so much love within, but very few take the time to express and explore. Others just let it gather dust and rust away in time.
In spite of all this, I find that the foundation is mutual respect on each other. The day the respect is lost is the day the marriage/relationship fails. So build on that respect, find that love which we clung to once upon a time. In fact, if we reminisce, we will find that it was not that long ago we felt that the purpose of our life is that single person and that the world revolved around him/her.
It's time to change and to notice, all that we have been neglecting. Dust ourselves up and live a little more with our loved ones and not just with the gadgets lying around. Let's be smart instead of our phones being so! Everyone can have a great wedding – you just need money for that, but what really counts is a great marriage.
And a successful marriage requires falling in love many times over, with the same person!
Until later 🙂
Images Courtesy: geniusquotes.org