Aahaa! Idhu enga area, ulla varadha 😀 *Literally folding back my sleeves and start typing furiously* The 2 best things that can happen to you ever is food and sleep! Nothing else will make you feel as satisfying as these two. So here is to the 5 foods that I absolutely love,
1. Dosa: If you had read my earlier posts regularly, you would have seen Dosa's guest appearance in the 9 loves post. Now is its main cast. I will die for Dosa. That too, when it is made by my mom with her special coconut chutney and Drumstick Sambar. There have been days when my family has seriously considered marrying me off to a man who works as a Dosa-Master or whoever makes those awesome tasty dosa in the restaurants.
2. Chat: I love chat items when it is prepared with the right amount of spices. Be it Paanipuri, Sev Puri, Dahi Puri or Paav Bhaaji. Just make it right and you have got a fan.
3. Mushroom: The one thing on my eat-for-life list that is actually good for health. 😛
4. Home-made Gulab Jamun: When it comes to sweets, I am weird. I have restrictions not only on which sweet I eat, but also on when I eat and where it is made etc. Gulab Jamun-It has to be home-made. Jalebi- It has to have that sweet-sour jeera taste. Halwa- It has to be the Ashoka Halwa from the sweet shop near my home at Trichy. The list is just endless. Out of all these , I love home-made Gulab Jamun the most 🙂
5. Pizzas with extra cheese: I love pizzas which are spicy and are loaded with extra cheese. I cannot believe that every time I order a pizza, I order a cheese burst. Because, the first time I ate pizza (when I was around less than 10 yrs old), when I felt the taste of cheese on my tongue, I puked and now I never eat a pizza without extra cheese, which is also another reason I made pizzas once-in-a-while food and not a regular one.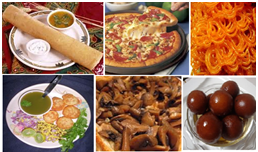 Yummmmmmmmmy!! And that makes my tummy crave for these. Sigh! If only I could go home now… Dreaming away…
Until  later 🙂